The New Dynevor is declared open – 29th July 2006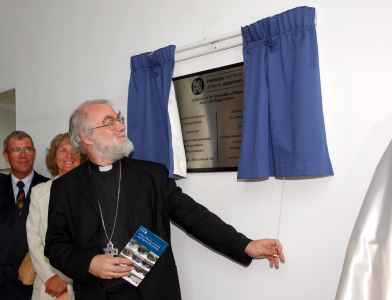 Dynevor School was reopened in its new guise as the Dynevor Centre for Art, Design and Media faculties of the Swansea Institute of Higher Education. The opening ceremony was undertaken by one of our most famous alumni, Dr. Rowan Williams, Archbishop of Canterbury.
The official ceremony was preceded by lunch at the Dragon Hotel where the guests were individually introduced to the Archbishop. The guests included civic dignitaries, staff and Governors of the Institute, representatives of the Association, and contemporaries and old school friends of the Archbishop.
The ceremony itself was held in the magnificent new foyer of the Dynevor Centre, and the Archbishop was introduced by Professor David Warner, Principal and Chief Executive of the Institute. Professor Warner gave a very warm welcome to the Archbishop and the guests, and gave a brief history of the transition of Dynevor from School to Artistic Centre. He also took the opportunity to unveil an impressive bronze bust of the Archbishop, created by a mature student at the Centre.
In his formal opening speech, the Archbishop warmly reminisced of his time at Dynevor School, and of the quality of its pupils and staff that had led to its excellent reputation in the City. He also referred to the great benefits the Institute had brought to Swansea, and wished it every success in its future development. The ceremony was concluded by awarding the Archbishop an Honorary Fellowship of the Institute.
Finally the guests were given a conducted tour of the refurbished Dynevor Centre. During the tour, it was gratifying to note that the War Memorial Board, the Past Presidents' Board and the stained glass window have been reinstated. It is intended that these will be rededicated at a ceremony to be held on 4th October. Click here to view further photographs taken on the day.