Buy your Old Dy'vorian's Assocation Tie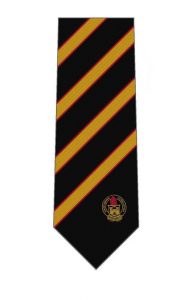 Stocks of the 75th Anniversary ODA tie, purchased in 2005, have finally been exhausted. A new tie was produced in time for the 2011 Annual Lecture and these are available from Steve Way for the price of £10.00 (add postage of £1.50 if to be delivered in the UK and £2.00 for deliveries overseas).
If you wish to purchase please send him all relevant details (no. of ties, delivery address, etc.) or click on his link to send an e-mail. Cheques should be payable to Old Dy'vorians Association.
Steve's mail address and telephone number are:
Address: 9 Croftfield Cres, Newton, Swansea SA3 4UL
Email: treasurer@dynevorrevisited.org.uk
Mobile: 07720 251639
Those of you coming to any ODA event will be able to purchase directly from Steve.