The Unveiling of the Goldstone Window 19/03/2007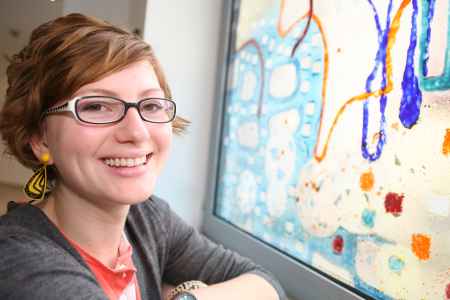 Window Art artist Eve Bracewell, a surface pattern design graduate of Swansea Institute with her stained glass window design, depicting the past, present and future of Dynevor, at its unveiling at the Dynevor Complex. The work of 22 year-old Eve Bracewell has been unveiled at the institute's Dynevor Centre for Art, Design and Media.
The design was selected after a competition set up by Swansea Institute in association with the Goldstone Family Trust which fully funded the window. The window was created by the institute's Alun Adams at the Architectural Stained Glass Centre, and by the institute's former head of glass, Rodney Bender, at his Clydach studio. Click here to view further photographs of the occasion.