Mr Norris passed away on 16th May 1989. A Service of Thanksgiving was held at Morriston Crematorium.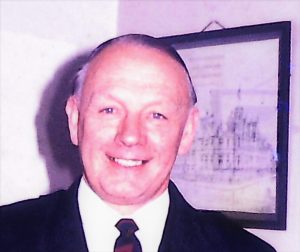 Mr D. Bernard Norris, well-known former headmaster of Dynevor School, arrived at the same time as the entry year of '65. To this group of new arrivals, Mr Norris cut an imposing figure with his billowing gown and was widely known as "the Beak".However, to subsequent generations of Dynevor pupils, he was fondly known as "Barney" and he is generally remembered as being a strict, but fair headmaster who encouraged all-round achievement whether academic, artistic or sporting.
Having gained his B.Sc. in Geology from University College, Swansea, Mr Norris taught at Penlan and Townhill Schools as well as at the old Swansea Technical College. He became Headmaster of Hafod Secondary Modern School prior to arriving at Dynevor where he served for 14 years before retiring in 1979.
During World War II,Mr Norris served as a major in the Royal Artillery.
After his retirement, he was awarded a Ph.D. by University College, Swansea, where he had also completed his Masters degree.
Mr Norris was survived by his wife, Jean, and two sons, Ian and Keith.