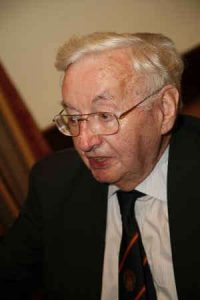 Born in 1926, David Iorwerth Mort was one of twins. His brother, Thomas Emrys, died when they were 4. Iorrie grew up at Castell Graig, Plasmarl, with his mother and younger sister Mair (their father died when Iorrie was 8). Welsh was their home language and Iorrie remembered having to learn English quickly when he began attending Plasmarl Primary School. He entered Dynevor in 1938 and was there during the years of the Second World War. His recollections of the 1941 blitz were shared on Welsh language radio and television on more than one occasion.
Iorrie studied Physics at Swansea, where he met Barbara, also reading Physics. After National Service he taught at Cadle School. He and Barbara were married at Zoar Chapel, Dyfatty, and in 1955 he took up a post teaching Physics and Maths at Dynevor, remaining there until retiring in 1984. His devotion to the school, to the ODA, and his recalling of past pupils was always a delight to him. In latter years he relished the monthly fellowship of lunching with several of these pupils.
A keen sportsman, he was also proud to have been, as a young boy, part of the cast of a play in Welsh from his Chapel, which won first prize at the National Eisteddfod in 1938. Two other Dy'vorians, Tom and Emlyn James, were also in the cast.
After losing his beloved Barbara and now in his eighties, his daughter living in London with her family, Iorrie remained independent. He joined a Welsh poetry class and composed several poems in cynghanedd, and the strict metres of classical Welsh verse.
He was a devoted and lifelong member of Dinas Noddfa Baptist Church in Plasmarl, and in latter years had enjoyed weekly lunches with 4 other chapel members at the Plough in Llangyfelach. Their combined ages totalled 445 years!
Iorrie gracefully accepted that the time had come for him to move to a care home and he was very happy at Hengoed Court, getting to know other residents, enjoying his computer, playing on-line chess with opponents from all over the world and, surprisingly, joining the Home's choir, making up in enthusiasm and volume what he might have lacked in musicality!
He led a full life, filled with four loves: his family, his faith, sport, and of course, Dynevor and the ODA. He enjoyed listening to and telling a good story and always responded with a loud and memorable laugh.
Remembered with affection, Mr Mort, DIM, Ior or Iorrie, will be missed.