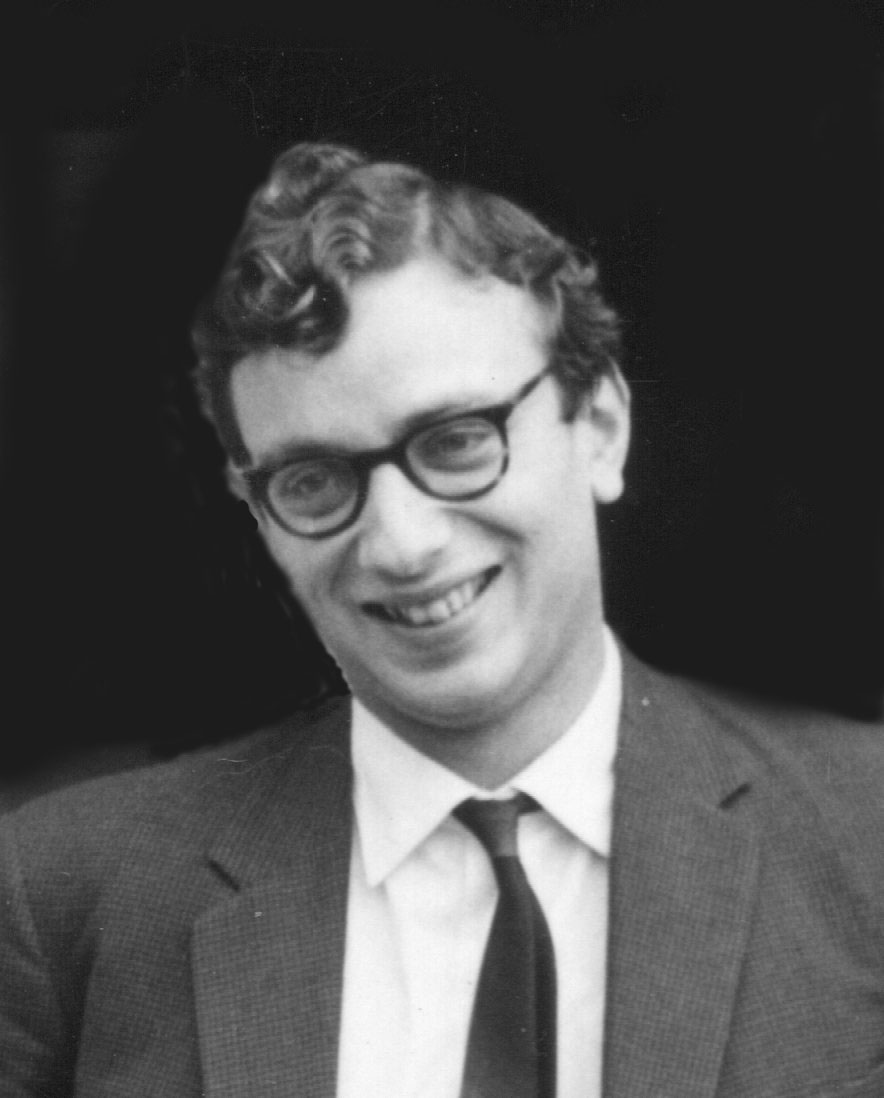 Dr Peter James (17 October 1940 – 14 February 2016)
John Hukku writes – I first met Peter James and his family in mid-1953 when the Hukku family moved to Swansea, and found themselves living six doors away from the James family in Uplands. Peter was born of a Welsh father and English mother in Melbourne, Australia, on 17 October 1940, where the music profession had taken his father, Haydn, in the mid-1930s. The family had loved the warm, Australian climate, but eventually returned to Britain in September 1950, staying initially with Haydn's parents at 5 Glanmôr Road, Uplands, Swansea. Shortly afterwards, they moved into the new James family home at 1 Cwmdonkin Drive, Uplands. Inevitably, they all hated the cold British winters. Peter's elder brother, Michael, also born and raised in Melbourne, enrolled at Dynevor School immediately, excelling at many sports and music. He was a brilliant pianist and fine singer by all accounts. However, the James family was shattered soon after, when, in summer 1951, Michael was tragically killed in a cycling accident on the hill down to Oxwich Bay near Penrice Castle.
Peter meanwhile attended Tycoch Primary School for five terms, then enrolled at Dynevor School in autumn 1952, soon showing himself equally talented at music, not on piano, but on the violin, having been taught by the celebrated Swansea violinist, Morgan Lloyd, and reaching Diploma level. Peter, like his elder brother, was also very interested in cricket, football and rugby – indeed, we often exchanged childhood memories of our cricket heroes – Peter talked of Don Bradman, Keith Miller, Ray Lindwall, Neil Harvey, Alan Davidson and many other Australian cricket "greats" of that era, while I recalled the likes of Don Shepherd, Jim McConnon, Alan Watkins and Gilbert Parkhouse! Peter himself was under no illusions as to his own playing abilities (while I simply laboured under many illusions). Music at Dynevor dominated his academic life, and under the tutelage of John Richards ("Porky"), at the age of 12, Peter taught himself the double-bass – a large instrument for a small boy, to say the least. Such was his facility on it, however, that he passed an audition for the National Youth Orchestra of Wales shortly afterwards, still aged only 12. At his first concert, his mother, on seeing him stagger onto the Brangwyn Hall stage in short trousers with double-bass in tow, was sufficiently embarrassed that Peter found himself in long trousers very soon after – despite his youthful lack of inches. Not much later, he became Principal Double-Bass in that orchestra, retaining that rôle until 1961.
At Dynevor School, anybody watching and hearing Peter play stringed instruments would have marvelled at his virtuosity, technical fluency, intonation and general musicality. He was exceptional, by any standards. Indeed, his "party piece" was to play parts of Mendelssohn's Violin Concerto on the double-bass, with unimaginably dazzling skill! Being blessed with perfect pitch, a career in music clearly beckoned. His time at Dynevor was dominated by John Richards' excessive demands on his time to help organise and run many of the School's musical activities, especially the orchestra and various choral or instrumental groups. Peter sailed through his WJEC O-level exams, but when it came to A-level French, History and Music, he came unstuck, and had to repeat his Upper Sixth year, leaving Dynevor in July 1960. By this time, he had also spent much time helping his father restore the music scene at the recently rebuilt and re-consecrated St Mary's Church in the centre of Swansea – where he also sang tenor regularly. At the same time, he assisted his father in setting up and running the Swansea Philharmonic Choir, in which standards of musical performance not previously seen in South Wales were established – and which persist to this day.
After his time at Dynevor, Peter proceeded to Cardiff University to study for a Bachelor of Music degree in Professor Alun Hoddinott's Department. He spent a great deal of his time there in the more practical aspects of music performance of various kinds, including establishing and running the Cardiff University Palestrina Choir, which gave expression to his developing interest and expertise in the choral music of the 15th-18th Century in Britain and Continental Europe. Peter graduated B.Mus in July 1963, gaining – rather surprisingly – an Upper Second Class Honours degree. He then proceeded to spend a year (1963-64) at Bristol University, studying for a Dip.Ed, which enabled him to become a music teacher, though not immediately.
However, in September 1964, Peter returned to Cardiff University, where he remained for the next three years, pursuing doctoral research into the "English Verse Anthem from Byrd to Tomkins", under the supervision of Dr Bernard Rose (of Magdalen College, Oxford). Peter's speciality would become the music of Thomas Tomkins (a former organist of St David's Cathedral), in whose music he became an acknowledged world authority.
In August 1967, Peter married Heather Lewis, sister of Tony Lewis (a Glamorgan cricketer, soon to become captain of both Glamorgan and England). Heather was a wonderful pianist and singer, as well as being blessed with perfect pitch, like Peter. Shortly after their marriage, Peter began his teaching career at Kitts Grove Comprehensive School in Birmingham, working with some very difficult inner-city children. A year later, he still managed to inspire them by staging Benjamin Britten's opera, "The Little Sweep", with accompaniment from a very pregnant Heather! It was Heather who pushed a rather reluctant Peter into finally submitting his doctoral thesis for assessment, graduating Ph.D in 1968. It was clearly a marriage made in Heaven, and lasted almost 49 years.
During those three years at Kitts Grove, Peter's sanity was preserved when, having moved to Lichfield, he was appointed as a Vicar Choral at Lichfield Cathedral in 1969, where he sang regular Cathedral services full-time for five years, then part-time until 1983. In 1970, the tedium of Kitts Grove ended when he obtained his first lectureship at the Birmingham School of Music (BSM), leading, a year later, to the post of Head of the Graduate course (GBSM) until 1974, then finally Director of Studies and Vice-Principal (1974-1983). While in this post, amongst other duties, he prepared the City of Birmingham Symphony Chorus for performances of many of the greatest choral classics – at home and abroad – with the CBSO under their renowned French maestro, Louis Frémaux, and pioneered the first BA (Music) Degree at the BSM. Peter strongly believed that the cultural clash between music conservatoires and university music departments benefitted nobody. He therefore dedicated much of his time in Birmingham (and later in London) to removing such contradictions, while leading a push towards amalgamating the performance and scholarship aspects of music teaching, replacing the old-style Diplomas by Degree courses for undergraduates.
In 1983, Peter's prowess as a teacher, a performer, an innovator, and a Scholar was recognized by his appointment as Warden (later re-designated Vice-Principal) of the Royal Academy of Music (RAM). In 1984, he was appointed an Honorary Member of the RAM, an award of rare distinction, limited to no more than 300 of the world's top musicians. As he had done at Birmingham, Peter introduced a B.Mus degree at the Royal Academy of Music, replacing the old Diplomas, in association with King's College, London.
After 12 successful years at the Royal Academy, the curse of musicians hit Peter, when he was suddenly diagnosed with a severe, painful and virtually untreatable form of tinnitus, causinghis immediate retirement at the age of 55, and relocation to the peace and quiet of Pontardawe, high above the Swansea Valley. His condition deteriorated rapidly, and with the accompanying onset of deafness, his performing career was over. However, his pursuit of his beloved scholarship continued vigorously, and in 1997, he and an old colleague from their Cardiff days (Dr David Evans), established the Cathedral Music Press in the James' Pontardawe home, to publish scholarly performing editions of Tudor and European Church Music of the 16th and 17th Centuries, most of which had never previously been published, nor ever performed since those long-gone times. Many of Peter's new editions are now actively sung not only in many British Cathedrals and Churches, but in many parts of the world. The repository of all 57 scholarly editions has recently passed to the Royal School of Church Music, Salisbury.
In addition to his performing editions, Peter also published very many scholarly papers on his continuing research, and served as an Advisory Consultant on the funding, design and restoration of the historic organ in St Peter's Church, Pontardawe, effectively using his professional influence and reputation to pilot the funding issues for the completion of the organ (1998-2003).
Peter was hugely respected by musicians everywhere for his high standards, comprehensive knowledge of his subject, teaching skills, and amazing memory. His only weaknesses were his terrible jokes (!) and lack of a decent keyboard technique – the only things, according to his wife, which brought him down to size! Peter was a great family man in a perfect marriage with Heather. As if severe tinnitus were not enough, Peter contracted lymphoma in 2014, requiring prolonged and very unpleasant treatment, which eventually took his life on 14 February 2016 – St Valentine's Day (a concept he truly detested). He had worked right up to the last day of his life, in order to complete his final scholarly edition, with the help of his wife. Throughout his life, he had been a source of immense inspiration not only to his two musical children, but also to us lower mortals, who were lucky enough to have known Peter and been the beneficiaries of his outstanding musical tutelage – in my case, for more than sixty years. The musical world – and Swansea, in particular – has lost its most talented music scholar, teacher and performer, while Dynevor School has lost its most exceptional musician. Old Dy'vorians have every reason to be immensely proud of Peter James' life and legacy, while I am truly thankful to have been part of that life.