CURRENT
| | |
| --- | --- |
| 2023 | Hywel Davies M.A., PhD |
PAST
These photographs of the Past Presidents' Boards were supplied by Kevin Williams from the Year of 1959. Click on the images below to see names of Past Presidents.
Most of the images included in the gallery along with individuals' names were supplied by Stuart Batcup. Thanks too to Tudor Price for compiling the material.
And going further back… in 1987 Murray Donald hands over to David Farmer. Iorrie Mort and George Hounsell are in the back row; Headmasters Hubert Davies and Allan Smith front right.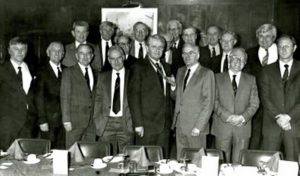 Let us know if you have photographs of other handovers.
| | |
| --- | --- |
| 2022 | David Taylor |
| 2021 | Keith Ferguson |
| 2020 | Rev. John Walters |
| 2019 | Rev. John Walters |
| 2018 | Keith D. Evans B.A., PGDip.Int.M. |
| 2017 | Dr John Rees MBBS, DCH, MRCGP |
| 2016 | Dr Ted Nield B.Sc., PhD, FGS  |
| 2015 | Selwyn Walters B.A., M.A., Cert. Ed., MITG |
| 2014 | Professor Dudley Sinnett MS, FRCS |
| 2013 | Kevin Johns MBE |
| 2012 | Phil Stone B.Sc.,M.Ed., FRSC. |
| 2011 | Dr. Rowan Williams, Archbishop of Canterbury |
| 2010 | David Dickinson, B.Sc. |
| 2009 | Dr Brian Willis B.Sc., PhD., MB, B.Ch., FRCA |
| 2008 | Captain Bill Rosser |
| 2007 | Noel Blows  |
| 2006 | Bill Gibbs  |
| 2005 | David Mendus M.A., M.Sc. |
| 2004 | Edgar McCarthy B.Sc., C.Eng., M.I.E.E. |
| 2003 | Terry Noonan B.Sc., C.Eng., M.I.C.E. |
| 2002 | Mal Pope  |
| 2001 | Robert N. Cowley FRICS |
| 2000 | Rev. Lionel Hopkins MBE, B.A. DIP. THEOL |
| 1999 | Harold Smith MBE, JP, DIP. AD |
| 1998 | Darryl Davies  |
| 1997 | W. H. Perrins B.A. |
| 1996 | E. G. Cogger S B ST JOHN |
| 1995 | Professor W. O. George PhD., D.Sc., CCHEM, FRSA |
| 1994 | John Beale CBE, M.A., M.Ed. |
| 1993 | George Sambrook CPFA |
| 1992 | Stuart N. Winks B.Ed., MFTCOM |
| 1991 | V. Stuart Batcup LLB (WALES) |
| 1990 | Grafton Maggs BDS, FDS, RCS |
| 1989 | David J. Goldstone LLB |
| 1988 | Gwyn Craven FCIB |
| 1987 | Professor David Farmer M.Sc., PhD. |
| 1986 | J. Murray Donald  |
| 1985 | R. A. Goodwin CPFA |
| 1984 | James Watkins B.Ed., DASE, FCOLLP |
| 1983 | Major R. Pike TD |
| 1982 | A. G. Johns  |
| 1981 | Peter Macpherson B.A., MIGD |
| 1980 | Ven. Archdeacon H. C. Williams MBE, B.A. |
| 1979 | F. C. Hibbert FRCS |
| 1978 | J. Alan Hughes JP, RIBA |
| 1977 | D. Edgar Rees B.Sc. |
| 1976 | D. Iorweth Mort B.Sc. |
| 1975 | Alan H. Sullivan |
| 1974 | Councillor David A. Jenkins |
| 1973 | Rev. Chancellor G. H. James B.A. |
| 1972 | Myrddin Williams ARICS |
| 1971 | E. D. Smith  |
| 1970 | G. Hounsell B.A. |
| 1969 | Leonard Matthews  |
| 1968 | Cyril Goldstone B.A. |
| 1967 | Hubert Joseph ACIS |
| 1966 | W. B. Penhale  |
| 1965 | Professor B. H. Flowers FRS |
| 1964 | Arthur T. Davies  |
| 1963 | W. A. Thomas  |
| 1962 | Wilfred Higgs FCA |
| 1961 | Councillor S. C. Jenkins |
| 1960 | B. C. McInerny  |
| 1959 | Howell Mendus LRIBA |
| 1958 | Glan Powell B.A. |
| 1957 | Councillor Geo. Gibbs JP, FSAA |
| 1956 | T. R. Williams LL.B, M.A. |
| 1955 | Leslie Davies  |
| 1954 | Col. Leslie Hyett MC |
| 1953 | Dr. Elwyn James FRCS |
| 1952 | W. Bryn Thomas M.A. |
| 1951 | Rev. A. Leslie Norman |
| 1950 | Alderman Percy Morris JP, MP |
| 1949 | Sir Wm. Jenkins JP |
| 1940/48 | Activities suspended |
| 1939 | D. O. Thomas B.A. |
| 1938 | Arthur Jones B. Comm. |
| 1937 | Rev. Wm. Francis M.A. |
| 1936 | Councillor W. T. Mainwaring Hughes |
| 1935 | W. R. Francis  |
| 1934 | W. R. Francis  |
| 1933 | J. D. Williams JP |
| 1932 | Councillor Percy Morris |
| 1931 | Llewelyn John ARCS, B.Sc. |
| 1930 | W.A. Beanland B.A. |